Corona measures Q&A - Beter Uit holiday parks
1. Are the Beter Uit holiday parks open?
The rules of the French government apply to holiday park La Draille in France. There is a total lockdown by order of the government in France. At the moment, the announced measures are valid until May 11. For the time being, guests are welcome after this date and all facilities are open. Guests with a booking at holiday park La Draille in the period before May 11 are informed or will be informed as soon as possible.
Holiday park Walsdorf in Luxembourg can receive guests, the Luxembourg government has not imposed any restrictions on the use of campsites and parks. However, it is not possible to travel to the park due to travel restrictions in Belgium and Germany. We are closely monitoring the measures and will inform you as soon as we can receive guests.
Our holiday park Vell Emporda in Spain has the planned opening date at the end of June. We do not yet know what the Spanish government will decide and unfortunately have to wait and see. We are in constant contact with our partners at park Vell Emporda about the situation in Spain. As soon as we have more information we will report more about this.
2. Can I transfer my booking to another period or different park?
Beter Uit holiday parks has temporarily broadened the possibilities for rebooking. This means that you can currently rebook your stay free of charge to another park or another period in 2020. If there is a price difference, the extra costs are for your account. No refund will be given if there is a negative price difference. When rebooking, the original cancellation terms remain in effect.
Rebooking with a voucher from the Walsdorf and La Draille parks to Vell Emporda is not possible. A booking from La Draille and Walsdorf cannot be converted to a booking on Vell Emporda.
3. I want to cancel my booking. Is that possible?
In light of the special circumstances, Beter Uit holiday parks will currently not refund the already paid travel sum, but you will receive a voucher worth the amount already paid. This voucher is transferable.
The voucher issued can be used to book a holiday in 2020, 2021 or 2022. Vouchers issued by La Draille holiday park follow the guidelines of the French government and are subject to French law.
Please contact our parks on 0883100580 or via info@beteruitvakantieparken.nl if you have any questions about the voucher.
We do our utmost to provide the guests who arrive at short notice with information and help them carefully. We will process requests as soon as possible. Due to the exceptional situation, we ask for patience and understanding that the response to requests will take longer.
For the period after 1 June, no concrete measures have yet been announced by the official authorities. We appreciate it very much if you could wait for these developments. We do everything we can to keep the holiday parks open and to offer everyone a pleasant holiday.
Onze vakantiegasten die op ons park zijn geweest hebben zonder moeite Walsdorf kunnen bereiken.
Het reisadvies voor heel Europa is op dit moment nog code oranje (zie de ANWB). Dat geldt dus ook voor Nederland en Luxemburg, ondanks dat de (intelligente) lockdown al steeds verder wordt opgeheven. We verwachten dat binnen de Europese Unie de grenzen op korte termijn geopend zullen worden voor het begin van de zomervakanties, en het reisadvies aangepast.
Omdat het nu weer toegestaan is om naar Luxemburg af te reizen konden we tijdens een stralend hemelvaartsweekend 30 gezinnen ontvangen. Het was voor alle gezinnen heerlijk om er weer even tussenuit te zijn met het hele gezin. En dan natuurlijk ook nog eens gezegend met het mooie weer, en de rust en ruimte op en rond Walsdorf. We hopen dat ook u daar snel van komt genieten.
Wij doen er alles aan om u een veilige vakantie-omgeving te bieden waarin u kunt ontspannen en genieten!
Gebruik sanitairgebouwen
De sanitairgebouwen zijn geopend zoals gebruikelijk, waarbij we een aantal maatregelen hebben genomen:
- De sanitairgebouwen zijn voorzien van éénrichtingsverkeer en afstandslijnen, om de 2 meter afstand te kunnen houden;
- Bij de ingangen hangen dispensers met handalcohol, zodat u uw handen kunt ontsmetten;
- De frequentie van de schoonmaak van het sanitair is verhoogd;
- Vakantiepark Walsdorf faciliteert voor alle sanitairdelen extra materialen, zodat u zelf ook aan de hygiëne bij kunt dragen indien u dat nodig vindt.
In alle gevallen geldt: Probeer uw gezicht niet aan te raken, voordat u goed uw handen heeft ontsmet, zowel voor als na uw sanitaire bezoek.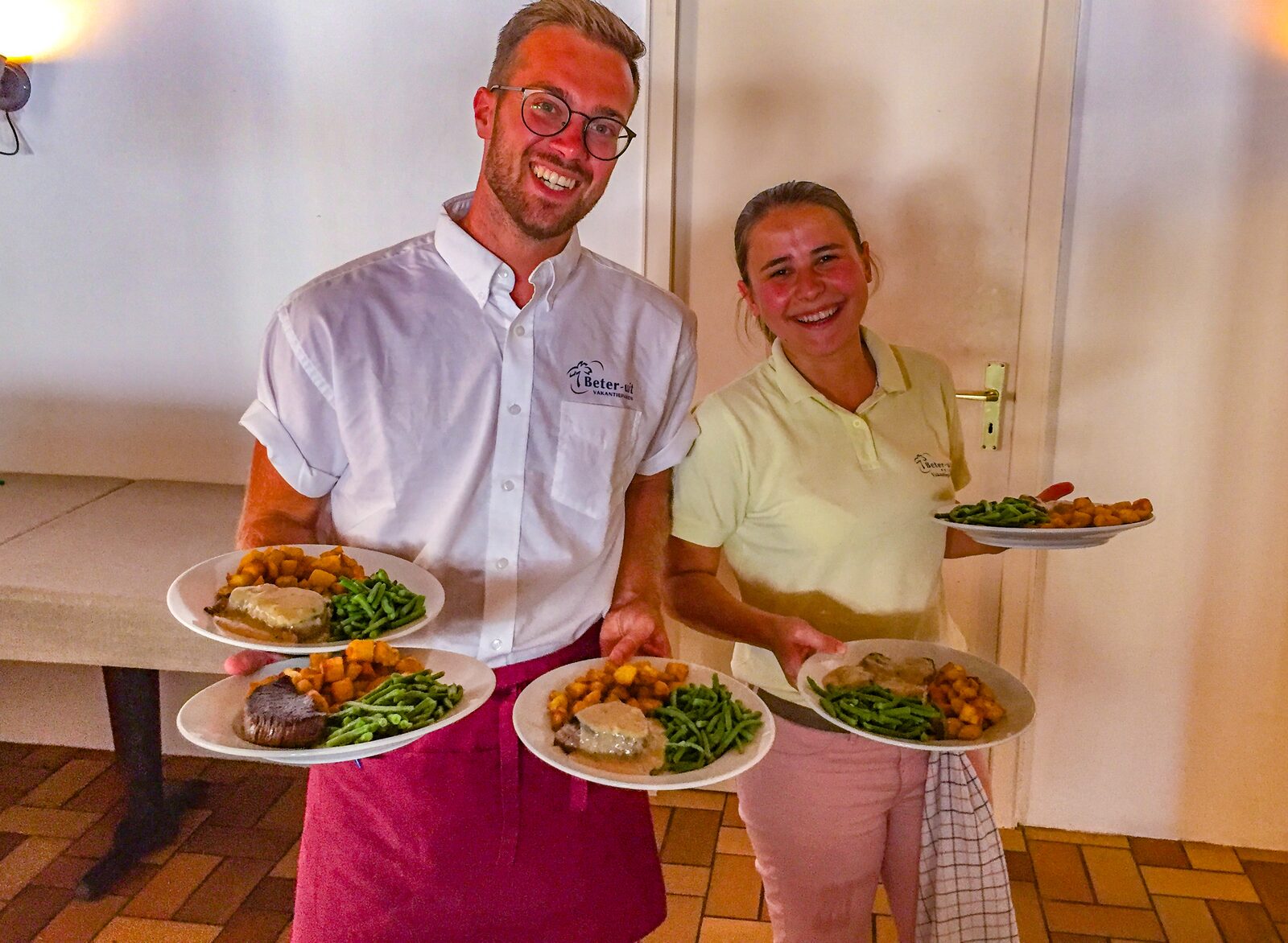 Horeca en recreatie
Onze horeca is geopend en het recreatie team staat voor u klaar, maar met enkele aanpassingen en maatregelen:
- De winkel en het restaurant zijn voorzien van éénrichtingsverkeer en afstandslijnen;
- In onze parkwinkel vindt u alle (vers) producten voor een ontbijt, lunch of diner;
- Bestellingen voor broodjes, cafetaria en het menu 'to go' kunt u dit seizoen online doen via de nieuwe Walsdorf app 'Camping Comfort';
- Ons restaurant en terras zijn weer open voor o.a. een heerlijk diner of een drankje. Hiervoor geldt wel max. 4 personen per tafel (tenzij allen uit hetzelfde gezin, dan is meer toegestaan), wij plaatsen de tafels op 2 meter afstand van elkaar. Mondkapjes zijn alleen nodig bij het bezoeken van het sanitair, niet tijdens het eten;
- In het recreatieprogramma zullen voorlopig geen contactsporten gefaciliteerd worden of activiteiten met veel gasten in of op een beperkte ruimte. Onze kerkdiensten, mannen en vrouwen ochtenden vinden voorlopig plaats op het terras. tot het maximaal aantal bezoekers.
In Luxemburg
Ook deze zomer kunt u er heerlijk op uit in de omgeving:
- Vrijdag 29 mei gaan in heel Luxemburg restaurants en terrassen weer open; - Wandel door de prachtige steden in de omgeving, zoals natuurlijk Luxemburg stad, maar ook Trier en Saarburg (DE);
- Vele musea zijn open, andere zullen in de komende open gaan; - U kunt ook in Luxemburg gewoon uw boodschappen doen; max. met 2 personen en met een mondkapje;
- Voor alles geldt: Houdt 2 meter afstand tot de ander. Is dat niet mogelijk? Draag dan mond/neus-bedekking.
We kunnen ons voorstellen dat u al lang genoeg thuis heeft gezeten en dus uitkijkt naar uw vakantie.
Wij doen er alles aan om deze zo te faciliteren dat u met een gerust hart naar ons op reis gaat en hier een comfortabele en veilige vakantie zult hebben.
Heeft u nog vragen over de maatregelen of vooruitzichten voor de zomer, dan kunt u altijd mailen of bellen naar de receptie van Vakantiepark Walsdorf.
Search & Book
2 guests
+ 0 babies
+ 0 pets
Select a stay period
Refine your search
Walsdorf
Luxembourg - Vianden
Prices for 2 guests with arrival on Thu 28 May and departure on Mon 1 Jun (4 nights)
No results found
Also no alternatives found for the period between 2023-02-03 and 2023-03-04. Search after 2023-03-04.